SOLD by Barbie!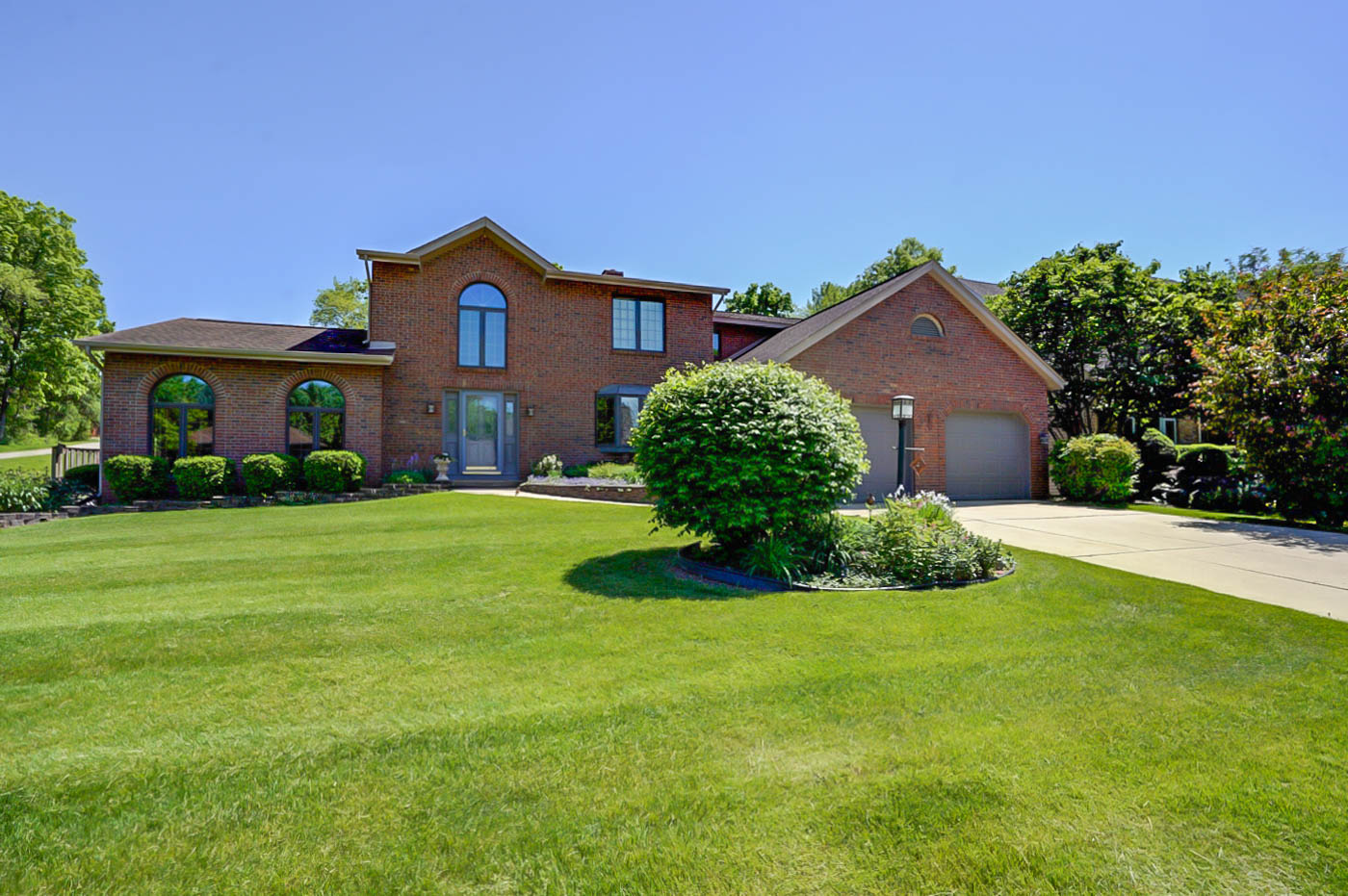 Conveniently located right next to the school path, this house at 5881 Schumann Dr. is a gem. It sits on a nearly half-acre lot hallmarked by beautiful landscaped lawn and gardens, mature trees and a scenic backyard rock wall with natural steps.
This traditional home is classic in style and architecture — both inside and out. The initial curb appeal continues inside with your first view of the wide-open entry. A 2-story vaulted ceiling, updated railings and light hardwood floors give this area — and the open staircase straight ahead — a light and airy feel.
Most of the house is freshly painted and there's new carpet on the main floor and lower level.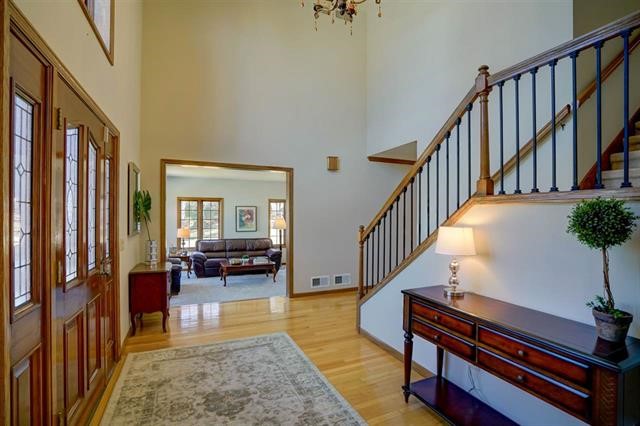 To the left of the front hallway, there's a sunken living room surrounded by large windows on 2 sides. If you'd prefer to use this space for something else, it would make a perfect TV room (there's cable hookup), music room, or extra space for entertaining.
Continuing further back on the main floor, you'll find an office with convenient built-in shelves. A back hallway connects to the kitchen and dining room or leads you back to the front entry. Here you'll find 1 of 2 main floor powder rooms. The first, between the front door and kitchen, is perfectly placed for both family and guests. The 2nd main floor powder room is also conveniently located — this one right in the back hallway leading in from the garage.
Continue along this back hall and you'll come to the formal dining room, with a unique bay window overlooking the backyard. This room is big enough to easily fit a large dining table and chairs for hosting family and friends. And a wet serving bar between the dining room and kitchen area makes entertaining easy.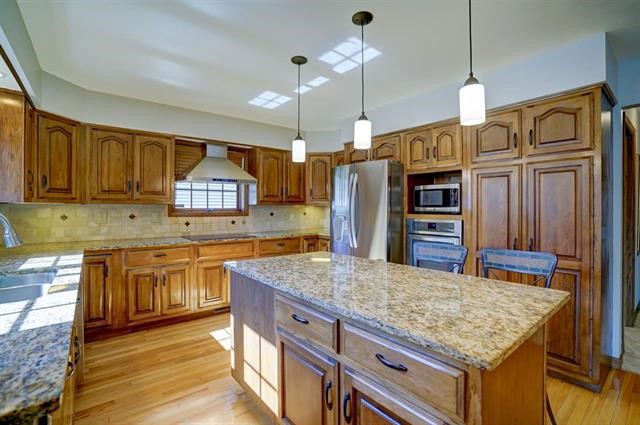 The cook's kitchen, straight ahead, features a huge walk-in pantry which can be used for your food, small appliances, and other kitchen storage. Alternately, the size of this space also lends itself for use as a walk-in closet and storage room.
The kitchen features new appliances, a wall oven, and a granite countertop with a breakfast bar that seats 2. At one end of the kitchen, there's a 2-sided stone fireplace next to a dining/breakfast nook — making this area perfect for a cozy companionable family meal.
The kitchen overlooks the backyard and leads to a warm and welcoming sunroom — with its tile floor and windows on three side. The sunroom also opens to a large back deck, perfect for grilling, entertaining, or simply enjoying the backyard view.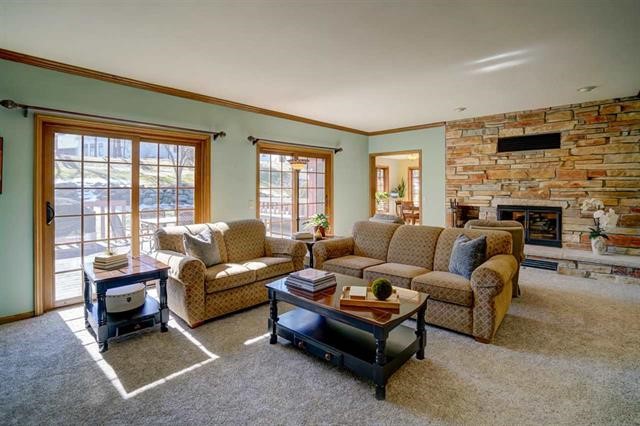 Last, but certainly not least, along the back of the main floor is the oversized great room. This is sure to become your favorite room of the house! Open to the back hall, front hall, and sunroom, this room also features large sliding doors leading to the back deck, which give it a warm and sunny feeling — despite its large size. This room is also home to the other side of that 2-sided wood-burning kitchen fireplace — this side accented by beautiful limestone.
Head back to the front entry and follow the staircase up to the 2nd floor where you'll find 4 bedrooms and 2 baths. To your immediate left, is the kids/hall/guest bathroom. It's been updated and features an oversized tub, linen closet and quartz countertop.
The 1st bedroom, across from the staircase, is big enough to easily fit a king bed. It overlooks the backyard and features a spacious double closet.
One other bedroom looks out back and another faces the front of the house. Both are generous in size and have the same double closet. Along the hallway, you'll find a large linen closet.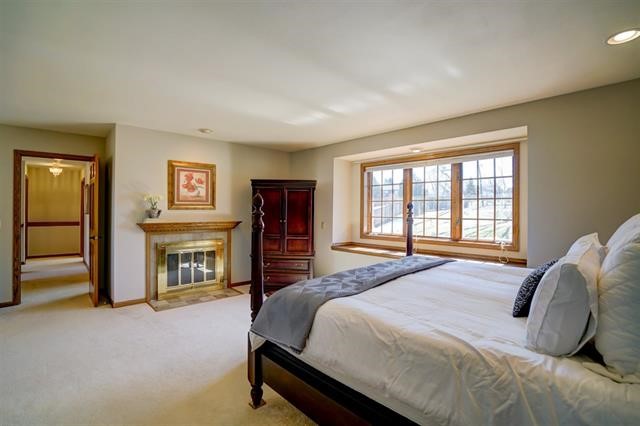 Continue to the end of the hall and you'll reach the oversized master suite. This is plenty big enough for a king bed. A nook to the right is perfect for a large dresser or maybe a cozy chair or chaise lounge, where you can curl up with a good book. The master has another wood-burning fireplace for cold winter nights. There's a wide span of windows along the back, set off by a wide window ledge.
The master bath has been updated with double sinks set in a comfort-height quartz countertop, a whirlpool tub, walk-in shower and lots of storage cabinets. Calling the new walk-in closet "oversized," doesn't even do it justice. The built-in shelves and hanging rods hold more than you can imagine — and there's extra space to place a dresser or full-size mirror.
All this (3,784 square feet) on the first 2 floors, and we haven't even mentioned the lower level. Downstairs you'll find another 792 square feet of finished space and lot and lots of additional space that can be finished or used for storage.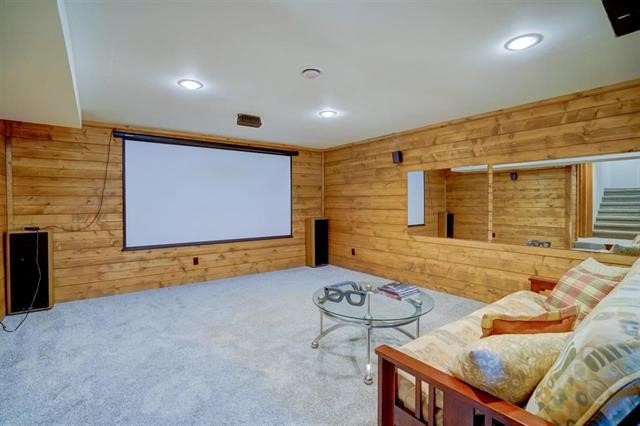 At the bottom of the stairs, there's a large theater room and children's play space with built-in shelves and an open toy chest. There's a convenient lower level powder room. And while a new workout room is perfect for your daily exercise routine, with its built-in L-shaped desk and countertop, this would also make a good computer room or craft space. Several other spaces on the level lend themselves well to storage or kids' play space. One is a good size to house a pool, ping pong, foosball, or other game table.
An oversized 2-car garage is roomy enough for extra storage, a 2nd fridge, or freezer. The garage also offers built in shelves as well as pegboard shelving. A generous back entry/mudroom is big enough to add some hooks and cubbies or a storage cabinet. This area opens to the laundry room — a large open room with utility sink and shelving. The mudroom also leads to that second main floor powder room.
The front yard sets off the house beautifully with its manicured lawn, perennial gardens and trees. Around the back, there's a large garden bed, rock wall, and deck for enjoying this outdoor beauty.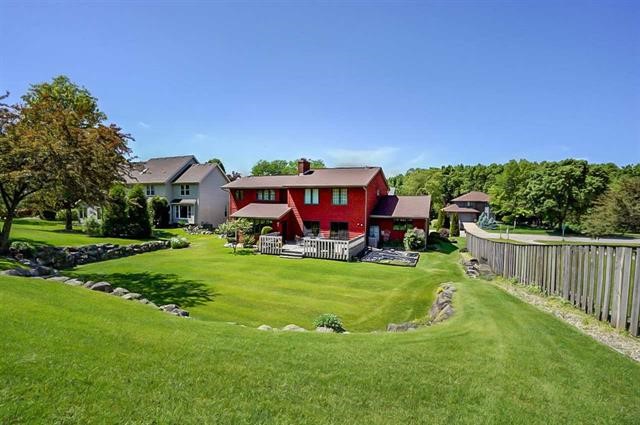 The yard is fenced in along 1 side to separate the property from the school path and a there's a raised berm along the back for privacy.
Located in in the heart of Seminole Forest, you'll find this is a perfect place to raise a family. Kids can walk to school up the adjacent path. A large park with playground, picnic area and open fields is nestled right behind the homes across the street. The Seminole Pool is just down the street — and the neighborhood is right by the bike path, close to the Fitchburg library, near grocery stores and a wide variety of restaurants. Proximity to Hwy PD, Verona Rd, Seminole Hwy and Fish Hatchery Rd. makes it easy to reach the beltline in a matter of minutes.
Take a look at this beautiful house — and neighborhood — and get ready to start packing.