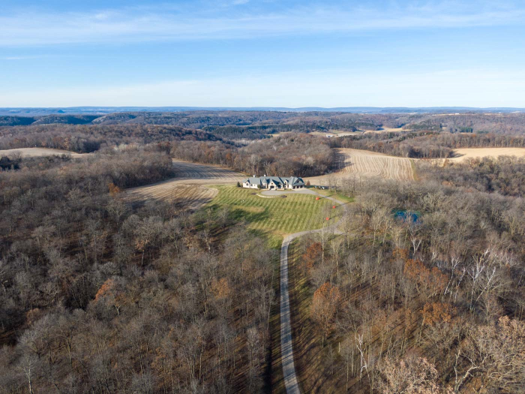 Take the gated private drive leading up the winding path to the front door of 9436 Hwy 19, and you'll realize immediately that this house has much more than simple curb appeal. The Tudor Provincial house is affectionately called Hidden Ridge Residence, a nickname that couldn't be more perfect. The exterior, with its combination of stucco and custom-selected natural limestone, is spectacular. And surrounded by 120 acres of land, the aerial view of this sprawling 9,583 square-foot home is nothing short of breathtaking. It's clear this is not your parents' ranch house.
You might expect the interior to be decked out in contemporary chrome and glass, a look that screams, "Don't touch!" But instead, this house is a pleasant surprise — a blend of mixed media textures, styles and colors that offer a unique mix of warmth and taste. The house may be outfitted with high-end appliances, lighting and flooring, but it still says, "People live here. This is home."
The Interior
And it could be yours. So, let's take a look inside. The wide front entry with its vaulted ceiling is painted a sunny yellow, giving the room a bright and cheerful look. And the iron French doors open in the middle — letting the breeze blow in when the weather's nice. The hand-scraped conservation walnut hardwood floors beneath your feet (which continue throughout), are rich and warm. An oil finish makes them long lasting and durable.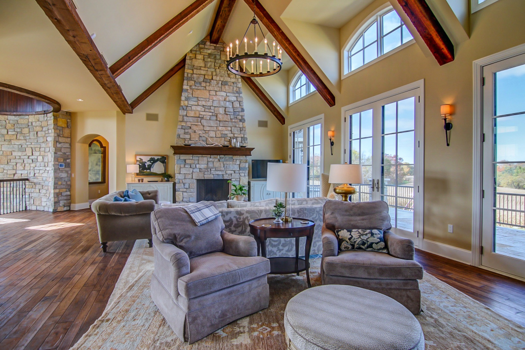 Straight ahead is the great room, with its large windows and veranda that overlook the pool, prairie and woods below. On the left wall, matching custom cabinets flank a wood fireplace set off by floor-to-ceiling natural limestone and a wooden mantle. On the right, there's a 3-sided gas fireplace that separates the great room, dining room and kitchen, while lending warmth to all three. The open concept and close proximity between these rooms makes this the perfect home for entertaining.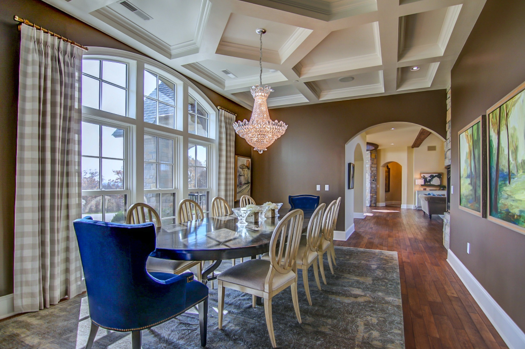 At 18×12 square feet, the massive dining room with its unique coffered ceiling can easily hold a table fitting 10-14 guests, still leaving room for a buffet or other furniture! From here, you've got easy access to the large chef's kitchen from either direction.
Chef's Kitchen
The double-island kitchen is another contradiction in style and expectations. It's huge.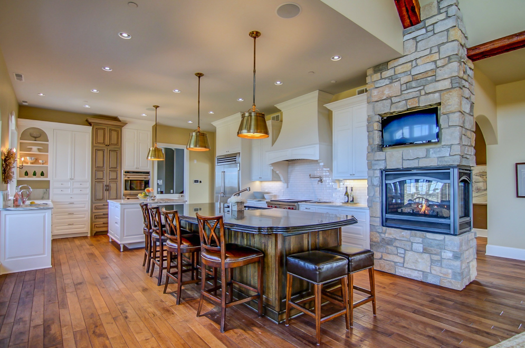 The high-end Sub Zero and Wolf appliances are a cook's dream. There are 2 dishwashers (with yet another in the lower level), refrigerator drawers, a range, 2 wall ovens, a built-in microwave, warming drawer and a built-in steamer. Height-appropriate pot-filler faucet makes it easy to fill large pans. There are cupboards, drawers, and shelves in abundance. And a generous farm sink is both convenient — and conveniently located. The sink looks out over the expansive yard and beautiful view, sure to make you whistle while you work!
The oversized marble-topped breakfast bar can seat 6-7 comfortably. Cabinets that open on both sides offer amazing storage. And a centrally-located sink makes food preparation a breeze. Another smaller footed island behind the sink provides additional workspace and added storage.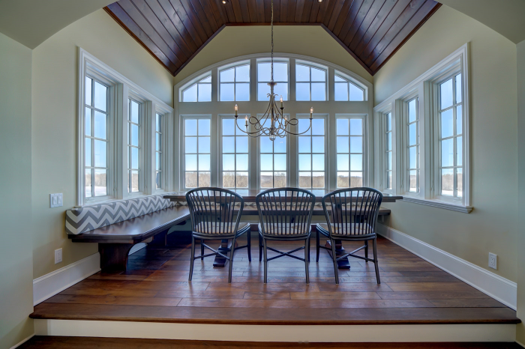 A dinette/breakfast (lunch and dinner) nook is set off from the main kitchen by two wide steps. It fits a large table and built-in benches for seating on two sides, with chairs on the other. Large windows and a vaulted wooden ceiling make the area bright and cheerful any time of the day.
It's no surprise the kitchen gets high marks for its many amenities, ease of use, practicality and convenience but that's not all. There's also a comfortable ambiance. You might expect a high-tech kitchen to be cold, but you couldn't be more wrong. The unique custom-made cabinets here and throughout the house, were created by Ron Harms of Harms Cabinets & Millwork.
The variety of finishes and hardware, white subway tile backsplash, and mix of enamel and natural wood and marble countertops, combine for an eclectic and cozy feel.
Mudroom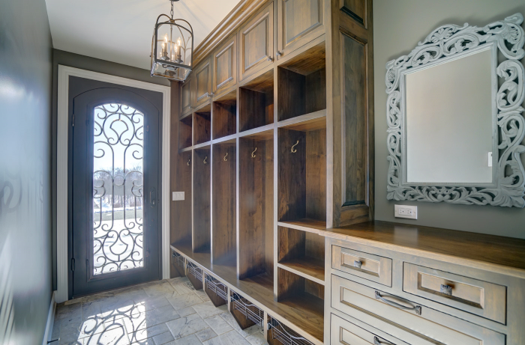 A Dutch door separates the kitchen, butler's pantry and mudroom. Although this room offers a lot of storage and even houses 2 food pantries, this back entry is a family's dream mudroom. There are 4 cubbies with shelves, hooks and baskets to hold everything the kids need as they head out the door. There are even multiple outlets for your all-important phone-charging. The mudroom opens to the garage but an outdoor path out front also leads to a door opening to this room – allowing for snowy, muddy or backpack-laden kids or dogs to enter directly without walking through the rest of the house.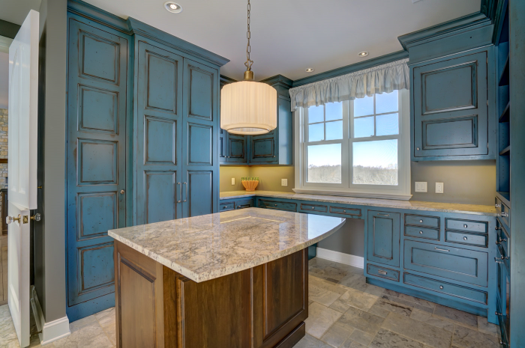 And speaking of dogs, this room is perfect for dog-lovers and their furry friends. There's an integrated feeding area for food and bowls. A butler's pantry island holds cupboards and drawers for storage — and even a pull-out pet food storage cupboard. Here again, the style of the cupboards, handles and drawers varies for a unique look. Although everything is built-in, some cabinets have feet – making them look like pieces of furniture. But the highlight of the room is the distressed teal cabinets giving off a rustic – yet fun — vibe. The room also features a hanging closet with a chalkboard front — perfect for family messaging. A stone-tiled floor of various sizes and shapes completes the look.
You may already be thinking this room has it all but wait — there's more. There's also a powder room with a footed cabinet, sink, and toilet, making it convenient to run in from outdoor play, mowing, or the nearby kitchen.
The mudroom also leads to the spacious heated 3-car garage. Here you'll find built-in cabinets and coated floors.
Bonus Room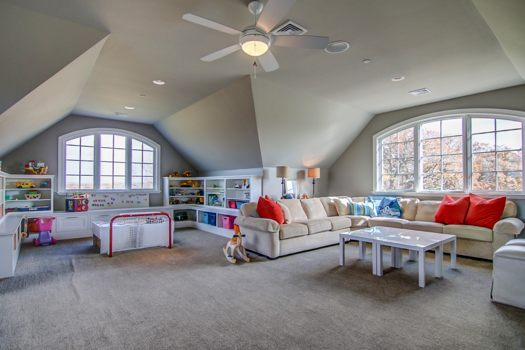 Yes, we told you this is a ranch house — and indeed it is. But between the kitchen and mudroom you'll pass a carpeted stairway leading upstairs — to the "bonus room." This 31×27 square-foot combined family-room-playroom-craft-area is perfect for, well, just about anything. There's plenty of storage in the form of built-in cabinetry and bookshelves. A bench, craft table, surround sound, and large windows all add to the possibilities.
Bedrooms, Baths, Office & Laundry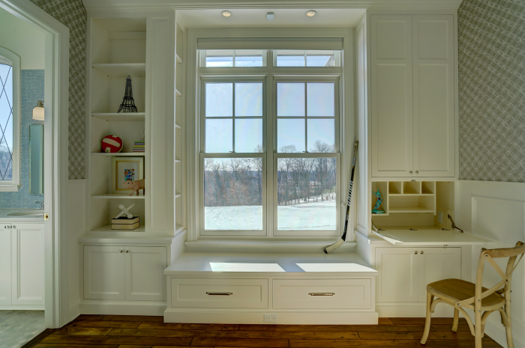 Back on the main floor, it's time to take a stroll down the other wing where you'll find the family bedrooms. Two children's bedrooms are side-by-side on the left, separated by a Jack-and-Jill bathroom. Nearly identical, they're roughly the same size with large double windows framed by white built-in shelving (with a pull-down desk), cabinets, and a window seat. The first room has a walk-in closet and the second has a large double-door closet — both with built-in organizers. The shared bath features marble flooring and a large executive-height quartz-top vanity with double sinks, set off by a wall of blue penny-tile. A pocket door separates this area from the toilet and a low-sided tub with shower.
On the right side of the hallway, you'll first pass a large powder room featuring a beautiful antique marble-top vanity set off by an oversized mirror, unique with its scalloped edges.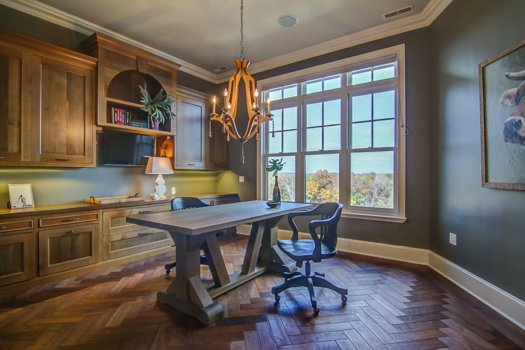 Next in line is a home office which opens to the hall with glass sliding pocket doors — and highlighted by its convenient natural wood built-in shelves, drawers and file cabinets, white trim, and gray walls. There's room for a large desk — and a view to die for, overlooking the back yard and pool.
And what could be better than a main-level laundry right by the bedrooms? White storage cabinets, cupboards, and drawers line the walls and include built-in hampers and large countertops for folding. There's an oversized jetted utility sink, drying rack, a large closet with shelves and a matching Electrolux washer and dryer. Black and white tiled floors and a large window will brighten the room — as well as your mood.
The Master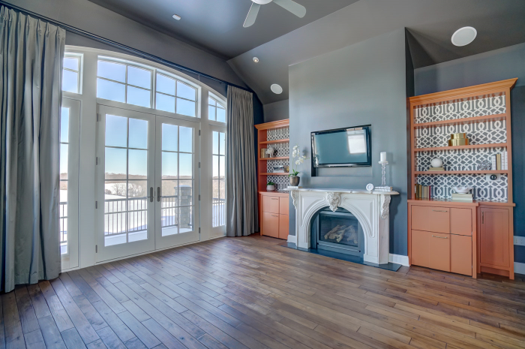 And finally, at the end of the hallway is the master suite. And sweet it is. A curious mix of luxurious and cheerful, rich wood floors and dark gray walls are accented with white trim and enameled wood built-ins. Even the doorknobs are more orate. French doors sandwiched between 2 large windows, provide a lot of natural light — and open to a private Juliet balcony overlooking the property and pool. A gas fireplace keeps the room cozy in the cooler months, while cabinet-front Sub Zero refrigerator drawers hold cold beverages if you're in the mood for a refreshing drink on the deck. And above the fireplace there's space for your TV.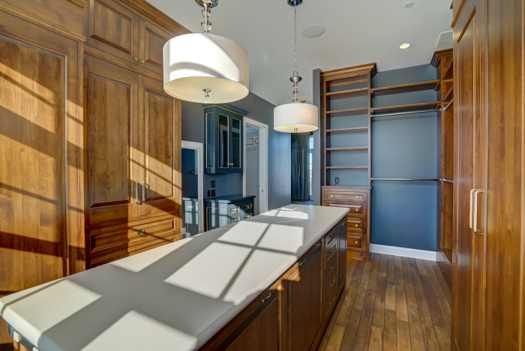 And the master closet? It's large enough to hold clothes for every season and every occasion, with room to spare. There are built-in drawers, shelves and hanging rods. A triple window and 2 large mirrors help you make your wardrobe choice! And 2 enclosed closets keep your fabrics from fading in the light. A center island provides more storage – and integrated hampers.
The huge master bath is nothing short of amazing. A clawfoot soaking tub takes center stage, but it's backed by a two-door double shower, beautifully tiled and featuring a body spray on one side and rain head on the other, with a bench and towel hooks in the center. White cabinetry lines both sides of the room, housing 2 sinks and of course, space for a TV. A toilet and large window are separated from the main room by a door.
Lower Level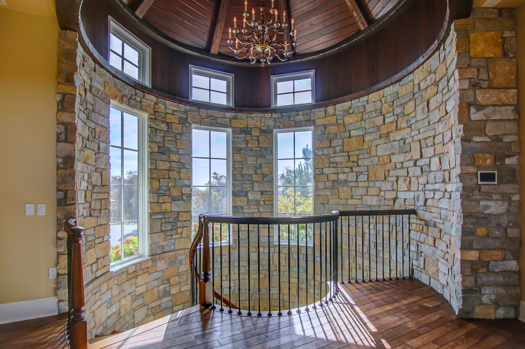 So that's the main floor — but it doesn't stop there. We'll continue the tour downstairs, where you'll find an additional 4,500 finished square feet.
On the way to the lower level, you'll be treated with a touch of elegant whimsy — almost making you feel like you're in a fairy tale. Looking up, you'll see a circular natural wood turret set off by small windows and a hanging chandelier. Three large windows let the sunlight in, highlighting the multicolored natural stone walls. And the circular staircase is framed by black metal spindles and wood handrails.
The staircase opens to a carpeted family room that's warm and appealing — in spite of its generous size. There's a wood fireplace topped by a giant TV. Natural wood built-ins provide both warmth and additional storage.
Pool & Patio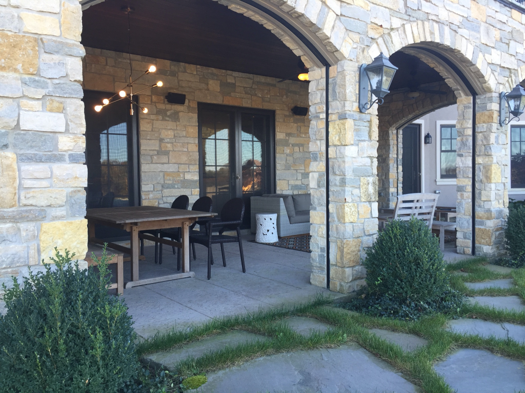 Three French doors and a sliding door open out to a large covered patio and the pool just beyond. The patio has imbedded screens that can remain up, to allow for more sun and provide easier pool access — or let down to keep out mosquitoes on a summer night.
The backyard beyond is, well, enormous. Overlooking farmland and forest, there's a large area perfect for sports, a playset, or letting the dog run free. And right outside the back door there's the saltwater pool. The lower chlorine levels are gentler on eyes and skin — safer for the whole family. While the kids swim, play games, and splash around, you can swim laps, take a quick dip or just float around the pool.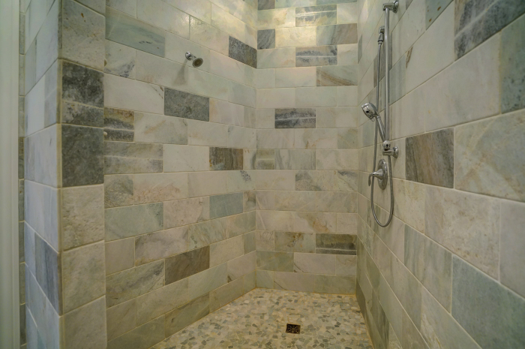 The "pool bathroom" will make you and your guests feel like you're at a country club! Open to both the hallway and pool area, you can come and go at ease. Just inside the back door, you'll find an area with a toilet, urinal, and oversized porcelain sink and towel bars. There's also a large beautifully tiled open shower with wall and hand-held sprays.
And perfect for washing all those pool towels and swimsuits, is a lower level laundry with a matching Whirlpool washer and dryer, lots of storage, and a large sink.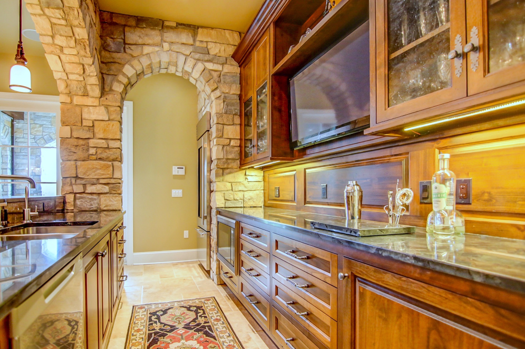 The entire lower level and yard are perfect for entertaining family and friends — with a built-in grill, fridge and firepit outside and a full-sized bar that seats at least 5 inside. And this is truly a full-service bar — with sink, dishwasher, glass-front cabinets, a microwave/convection oven, another fridge and space for a TV. A wine cellar just a few steps away is a wine connoisseur's dream — with integrated temperature and humidity control, the room holds 100+ bottles of your favorite wine.
Bedrooms, Workout Rooms & More
There are 2 additional bedrooms on this level — perfect for a live-in nanny — or overnight guests. One bedroom has an ensuite bath with an attractive penny tile floor, enclosed tub/shower and granite countertop. Behind the sink, there's tiled wainscoting. The other bedroom also features an attached bath with marble tile, and a tub/shower with hand-held shower spray attachments.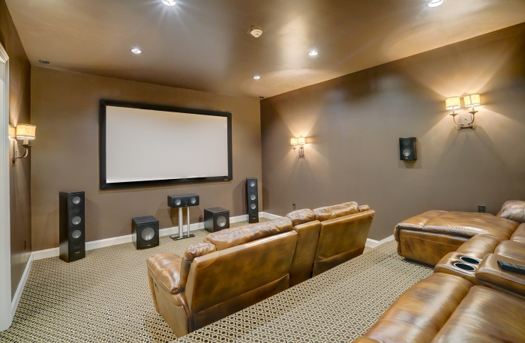 Also on this level, you'll find additional storage, mechanicals, and a pool table. A cushy theater room with surround sound and 6 reclining seats, is the perfect place to catch a movie or binge-watch your favorite show.
If that sounds too sedentary, you can head to one of 2 work-out rooms to get in a little exercise. The first is a family exercise room, with soft flooring, large windows, a mirrored wall and TV to make time go by faster while on your treadmill, bike or elliptical machine.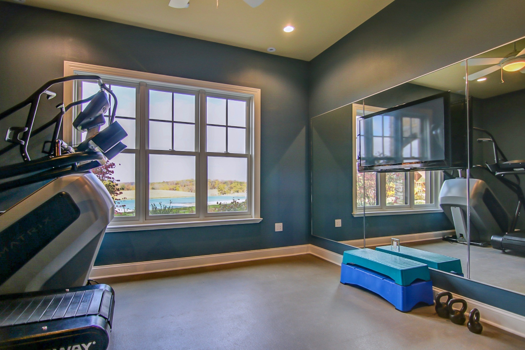 The larger of the two rooms is sized to accommodate the serious athlete. It can easily hold bulkier equipment for stretching, weightlifting, rowing, etc. But if one exercise space is enough to suit your needs, this unfinished area would be great for an indoor putting green — or even a recording studio.