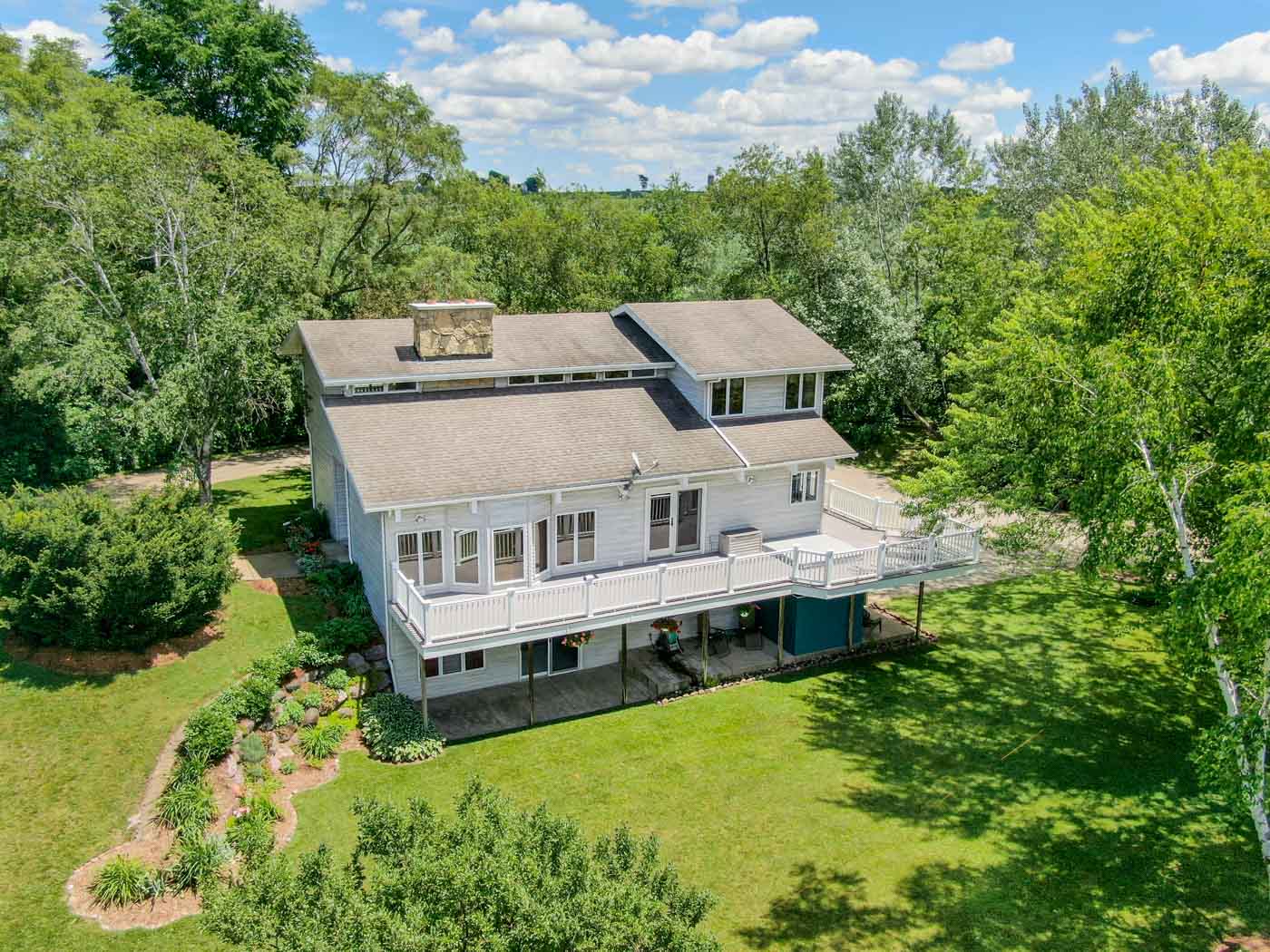 A few miles beyond the Mt. Horeb Trollway, along a scenic winding road, and just past Stewart Lake (and County Park) you'll come to Number 3156. Take the private drive up the hill and you can't help but feel you're suddenly in the north woods.
The house and its 5+ wooded acres, combine to create a peaceful oasis – your own private paradise. Even better? It requires little or no maintenance.
This "cabin in the woods," is covered in a gray weathered wood-look vinyl — and the large surrounding yard is filled with perennials and succulents for natural beauty year after year. A walk around the house reveals a wooded wonderland. A limestone fireplace chimney takes center stage atop the roof, and the front door is accented with ironworks, for a rustic, yet welcoming look.
Around the back of the house, your eyes are immediately drawn to the large wrap-around deck that runs the full length of the rear of the house and around the side to the back door. There's plenty of room for a grill, along with table, chairs and additional lounge chairs. But the unexpected surprise? A sunken hot tub — providing a perfect place to relax at the end of a long day.
The backyard combines manicured lawn with a woodland view. One clearing is perfect for camping under the stars — and another holds a firepit for making some evening s'mores. One other open area is ideal for an old-fashioned swing.
While your guests may come in the front entrance, the back door is for family and friends. Just inside the door, a live-wood edge topped half-wall separates the kitchen from the raised sunroom with its two large sunny window walls — a great place to curl up with a good book.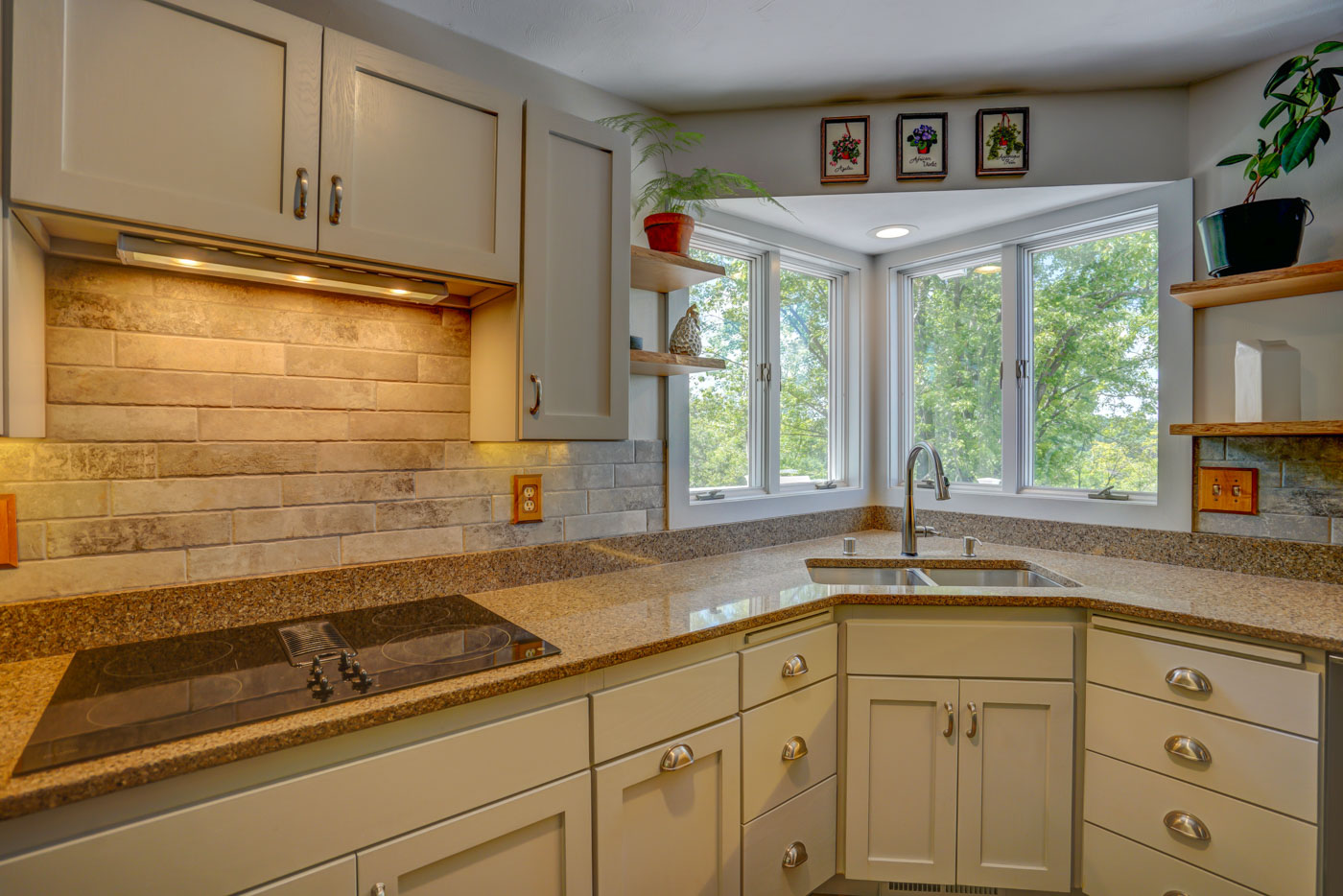 The kitchen features a wood-look tile floor, quartz countertop and a stone-look porcelain tile backsplash. It's outfitted with newer black stainless steel GE appliances, a wall oven and Profile down-draft cook top. And you don't have to go far to enjoy a family meal. A bar-height breakfast bar, with room to seat 5-6, is set off with a custom-made wood top with live-wood edges.
A large tiled-floor laundry room sits right off the kitchen. Laundry becomes easier with the raised-height washer and dryer. You'll also find a drying rack, laundry tub, pantry storage — and enough space left over for a freezer and food dishes for your favorite pet.
Conveniently located next to the kitchen — and accessible from both the kitchen and back hallway — is the 15×13' formal dining room, set off by a handsome vaulted ceiling with wood beams. French doors open to the backyard deck.
From here, step down into the great room and you're sure to find your cozy place. Large windows overlook the backyard, that same vaulted ceiling reaches to the sky for an open feel, and a 2-story limestone fireplace makes you feel part of nature. There's a unique ceiling fan overhead. And this room is also next to an open, circular staircase — an architectural wonder that's both rustic and airy.
The far side of the great room leads to the front entry, with its natural oak flooring. Come in that door and you'll encounter the other 2 sides of the limestone fireplace along the back hallway. There's a convenient front coat closet and a room to the left that's perfect for a guest bedroom or office. It features a large closet with built-in shelves, great for storage.
A full bath along this hallway is equipped with a tub/shower and a custom-built rustic wood vanity with granite counter. A giant linen closet holds everything you or your guests could need.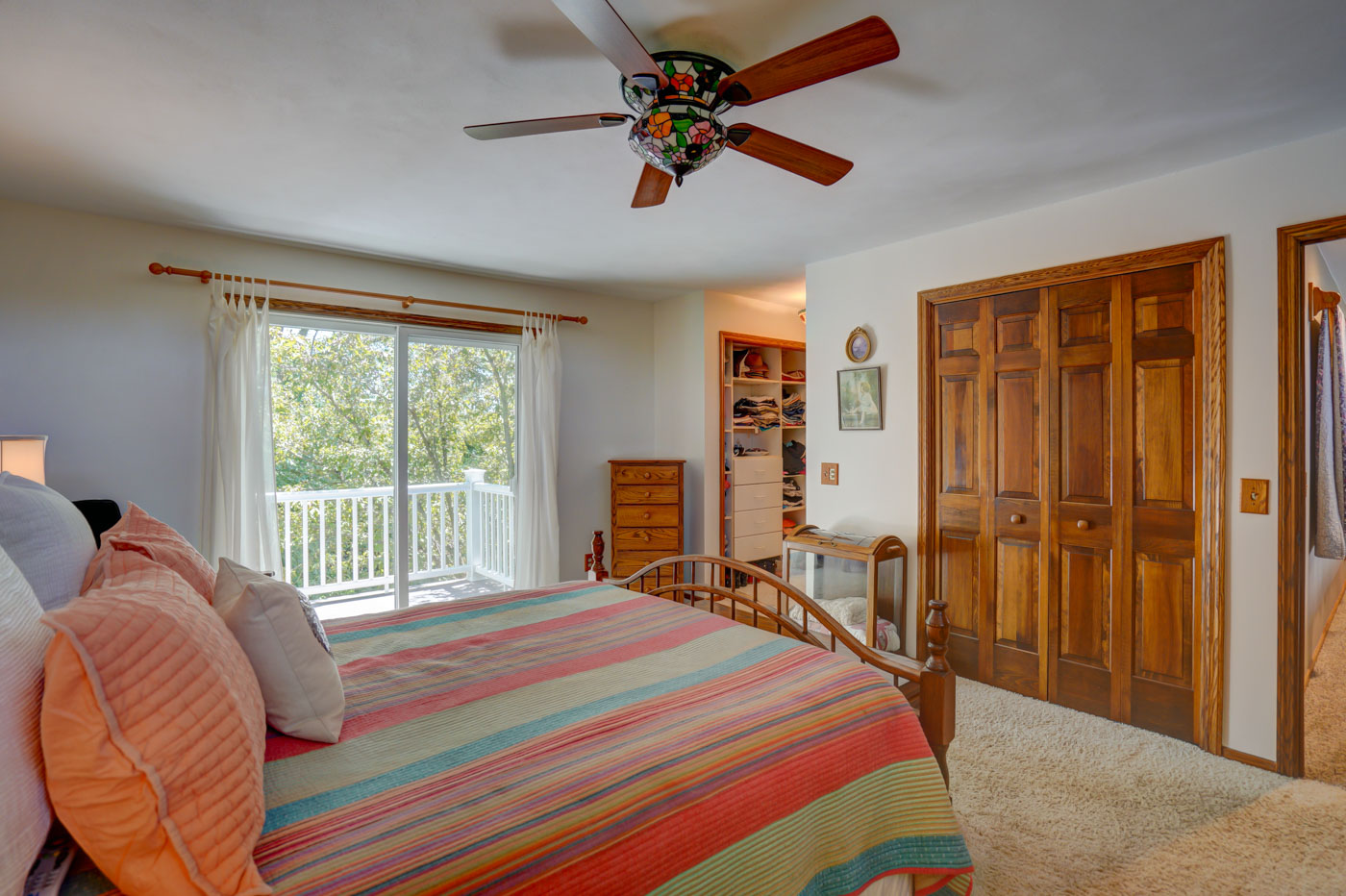 The open circular staircase leads the way to 3 more bedrooms and 2 baths. First stop? The master suite at the top of the stairs. This large room — 17 x 13 sq. ft — is sunny and pleasant with 2 transom windows on one side and glass doors opening to an attached Juliet balcony on the other. This is the perfect place to relax with your morning coffee or just grab a little "me time" before or after a busy day. His closet opens with bifold doors and is outfitted with a built-in organizer and double hanging racks. Her closet is a walk-though, fitted with closet organizers and built-in drawers. Just beyond, you'll find the master bath, featuring a comfort-height counter with double sink, a tiled floor, tub/shower combo and linen closet.
At the other end of the hallway, you'll find an even larger linen closet for more storage.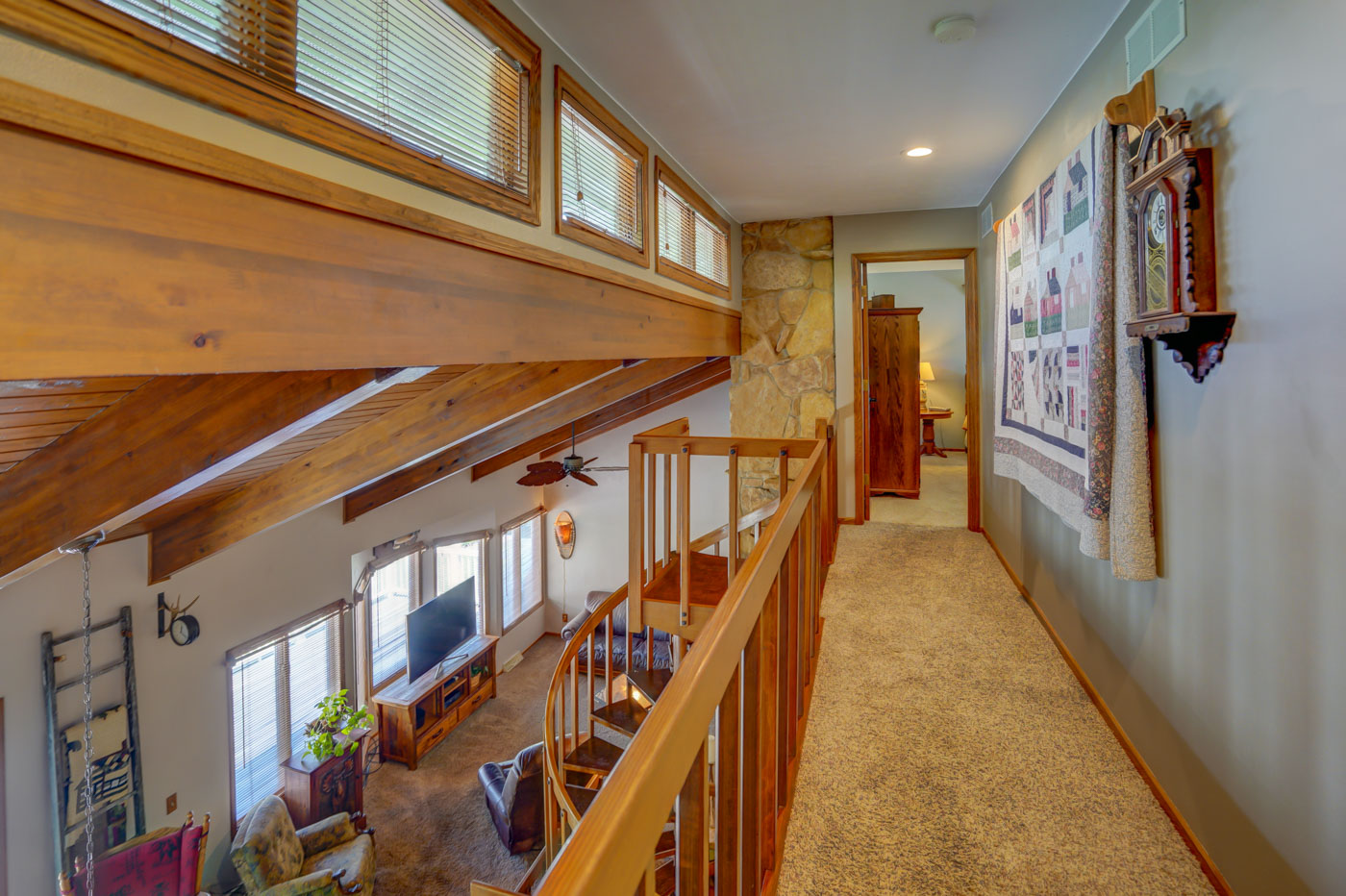 And there are also 2 more bedrooms on either side of the hall. Perfect for kids or guests, the rooms are both good-sized. Each have closets with built-in organizers. One has two side-by-side windows and the other features corner windows. Both have ceiling fans.
Also along this hallway, is a full bath with a tub/shower, linen closet, and large vanity with a solid surface counter. A wood spindle railing overlooking the dining room and great room creates architectural interest and an open feel to both levels.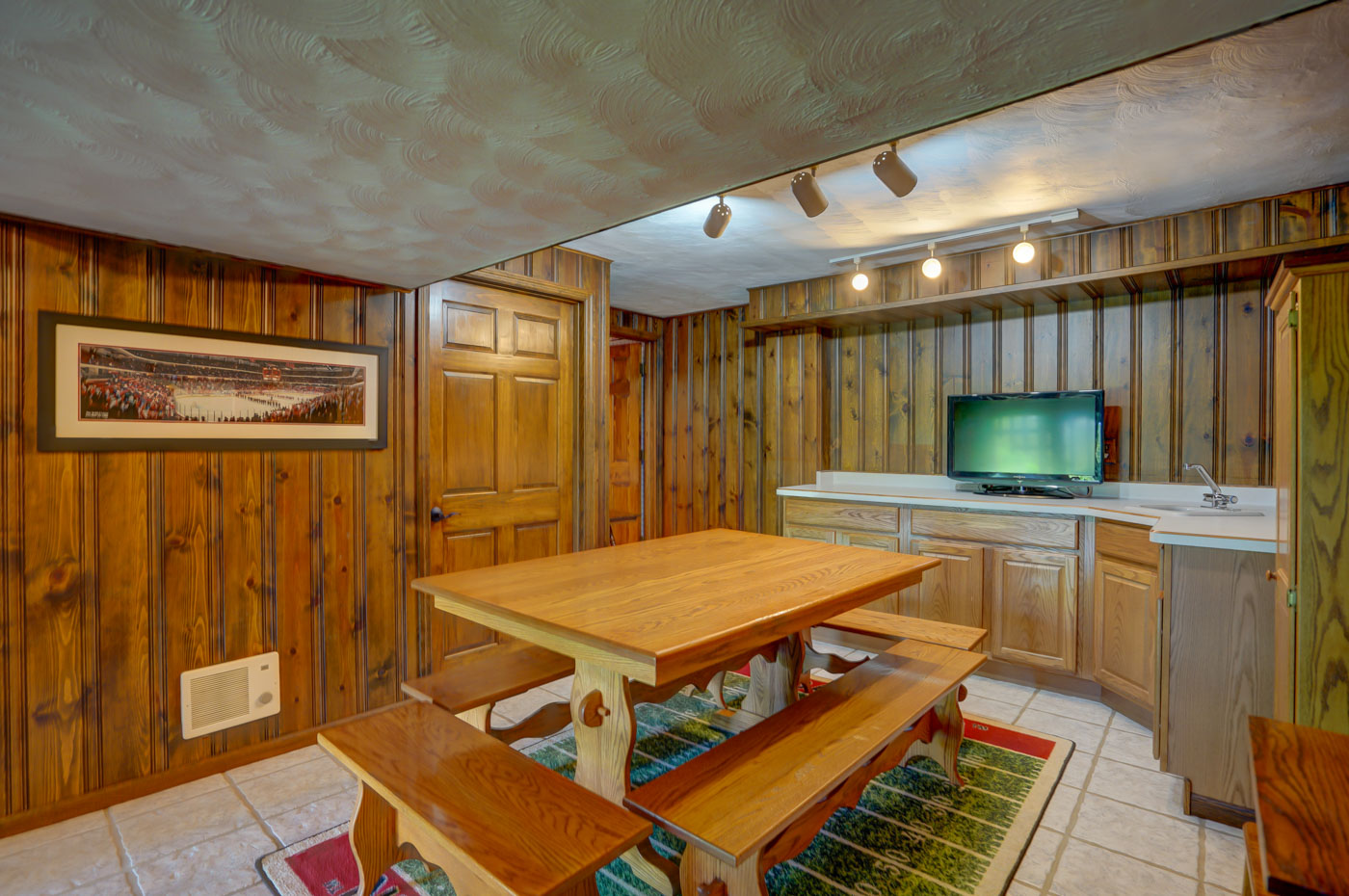 Winding down — literally — you'll reach the lower level. Here, you'll find several gathering places. A tiled rec room area is great for crafts, a casual meal or a game of cards. A large wet bar with sink and storage cabinets lines the back wall. Further back, there's a utility room, space for storage and the fourth full bath with shower.
A large carpeted family room faces the rear of the house. An attractive wood fireplace is perfect for a chilly day. And there's plenty of room here for both comfy furniture when you feel like relaxing — and exercise equipment, when you don't.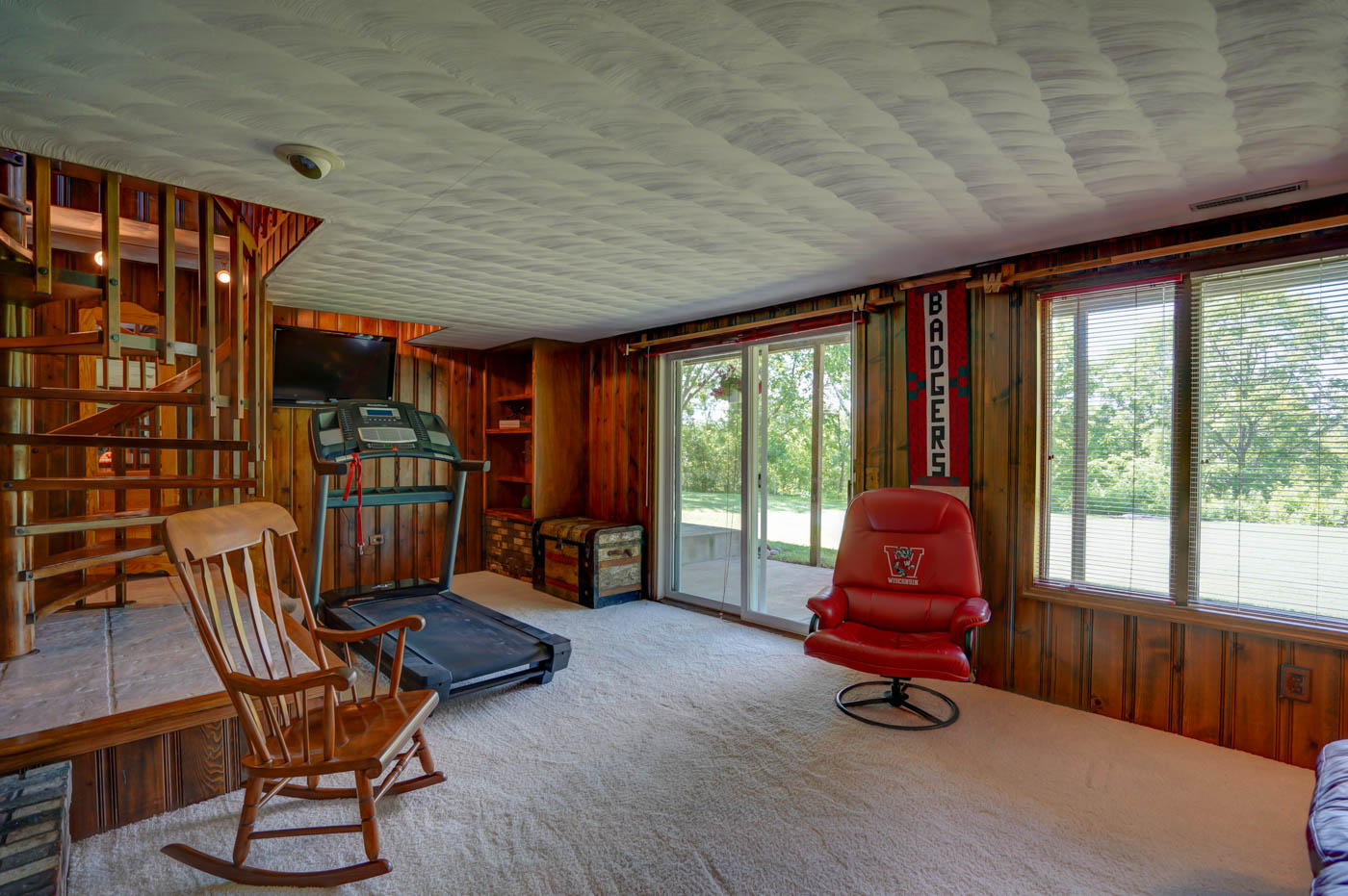 Sliding glass doors open to a large poured concrete patio area beneath the home's first floor deck. Depending on your needs, this is the perfect go-to space when your deck-side cookout gets rained out. Or adding screens here would make a nice bug-free screen porch. And you can always designate this large space for all your outdoor storage.
A tucked-in 2-car garage with built-in shelves and cabinets, is large enough for 2 cars and plenty of storage — with space still left over. You'll have extra room for a refrigerator, work bench, and added center storage.
At just under 3,000 square feet, this house maximizes its space to the greatest possibilities. Not only that, but the lot is breathtaking, and nearby you'll have access to Stewart Lake with its walking and biking trails. Just minutes away, are the unique shops and restaurants of downtown Mt. Horeb. And don't worry — you don't have to be Norwegian to love those trolls.