A short 35-minute drive from the bustle of Middleton (just outside of Madison), and only 6 minutes from Spring Green, you'll find a home designed for anyone who loves the great outdoors and peaceful solitude of country life. This house at 6912 High Point Rd., Arena, Wisconsin, built on a 33.79-acre lot, offers the perfect retreat from busy city life. Yet, at less than 45 minutes from Madison down Hwy 14, it's still close enough to the city to take advantage of all that the state's capital has to offer.
The first thing you'll notice is the large expanse of wooded land leading up to the home. And if you like green grass and flowers, you'll be glad to know the house itself is surrounded by a large beautifully manicured lawn with several flower beds, fronted by a field of prairie wildflowers.
Perched in the center, this contemporary prairie-style house looks right at home with its buff-colored stucco and natural limestone exterior. An 8-guest parking area with LED lighting leads you to the front entrance. And 3 separate screened porches, each with a different view, will bring you close to nature while protecting you from the elements (and pesky bugs).
When you first step inside, you can't help but notice the unique lighting in the entry. Appropriate for a home just down the road from Taliesin, this Frank Lloyd Wright-inspired house features a horizontal slatted lattice dropped down from the ceiling, which softens and accents the light shining through. Maple flooring throughout begins here and adds to the overall effect.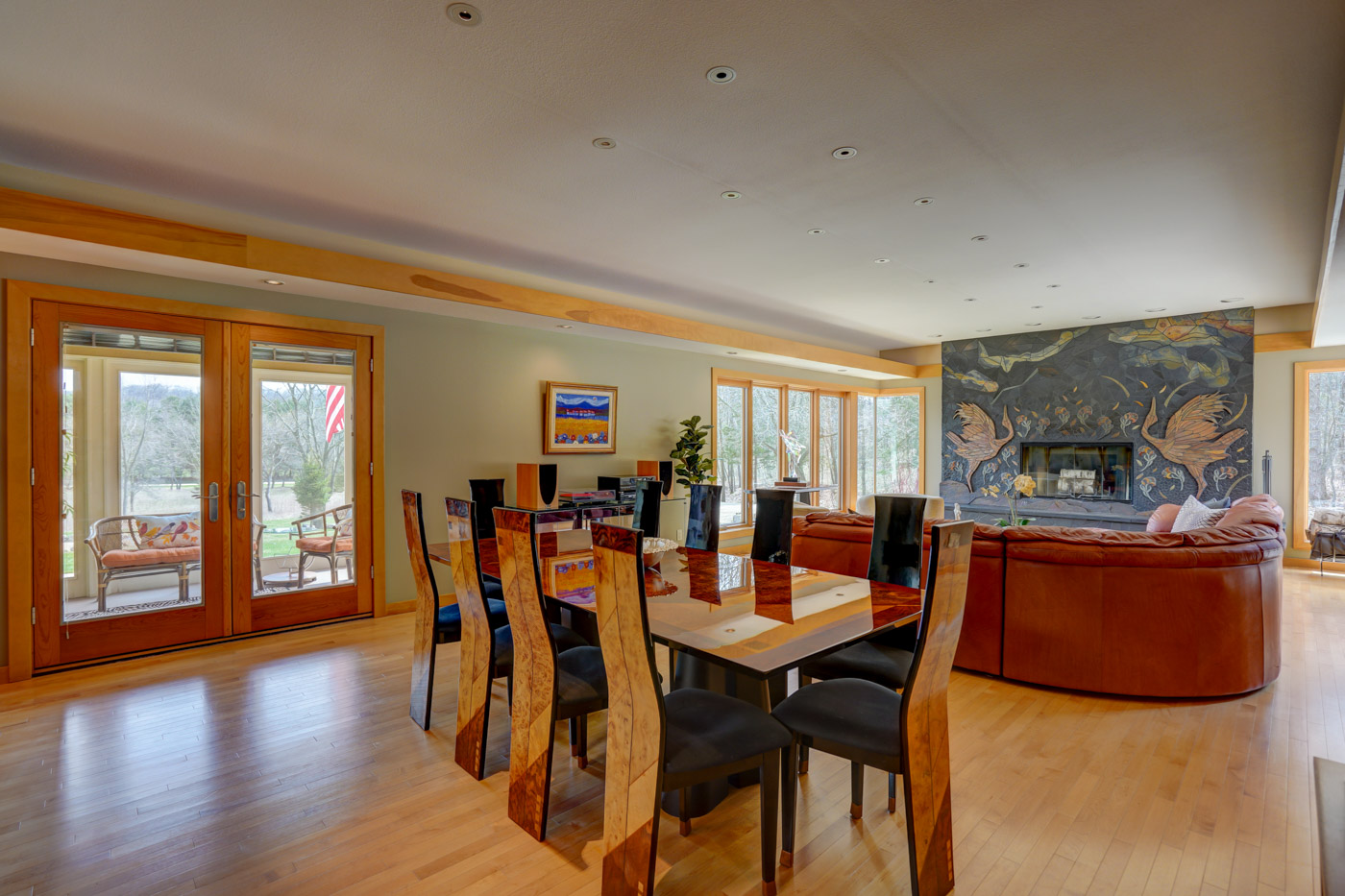 Head to the left and you'll come face to face with the living room's piece de resistance — a wood-burning fireplace framed by an award-winning mosaic featuring Wisconsin's native cranes among a sprinkling of leaves. This 18-foot wide room is bordered by huge windows on each side, allowing the sun — and nature — in. Just off the living room and dining area you'll also find the first screened porch — the perfect place to relax and enjoy your spectacular view.
Situated between the living room and kitchen, the dining area is formal enough for entertaining, with enough space to fit a table for 10 to 14. But if you prefer a more casual look, the area could easily become a breakfast (lunch and dinner) space for all your family meals.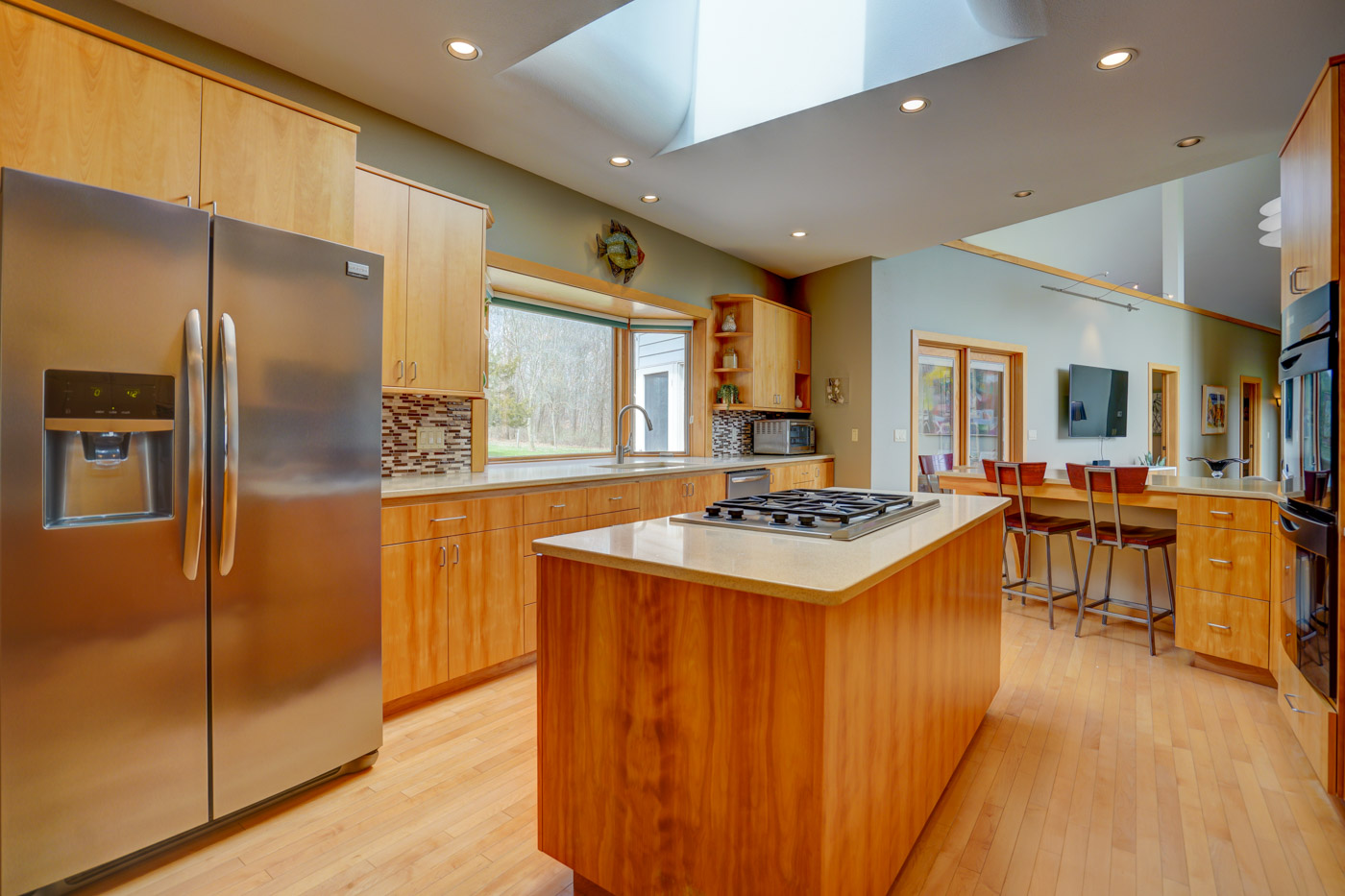 Next stop the kitchen. Outfitted with a gas cooktop and double ovens, this Chef's kitchen, features birch cabinets, built-in shelves and a big bay window overlooking the yard. And a tiled backsplash coupled with a quartz countertop and breakfast bar that seats three, adds both beauty and functionality. Just to the left, there's a large walk-in pantry — with an optional cooling function to give extra life to your fruits, vegetables, or wine.
Down this short hallway, there's a conveniently located powder room and a large mudroom with wall hooks, a closet, built-in bench, and lots of space for cubbies, dog crate, and full-size fridge and freezer. Access to the attached garage is right here also.
On the other side of the kitchen, you'll find a family room with vaulted ceiling, large windows and space for a big TV. Integrated blinds operated by remote control are used on not only these windows, but also in the adjacent bedroom/office.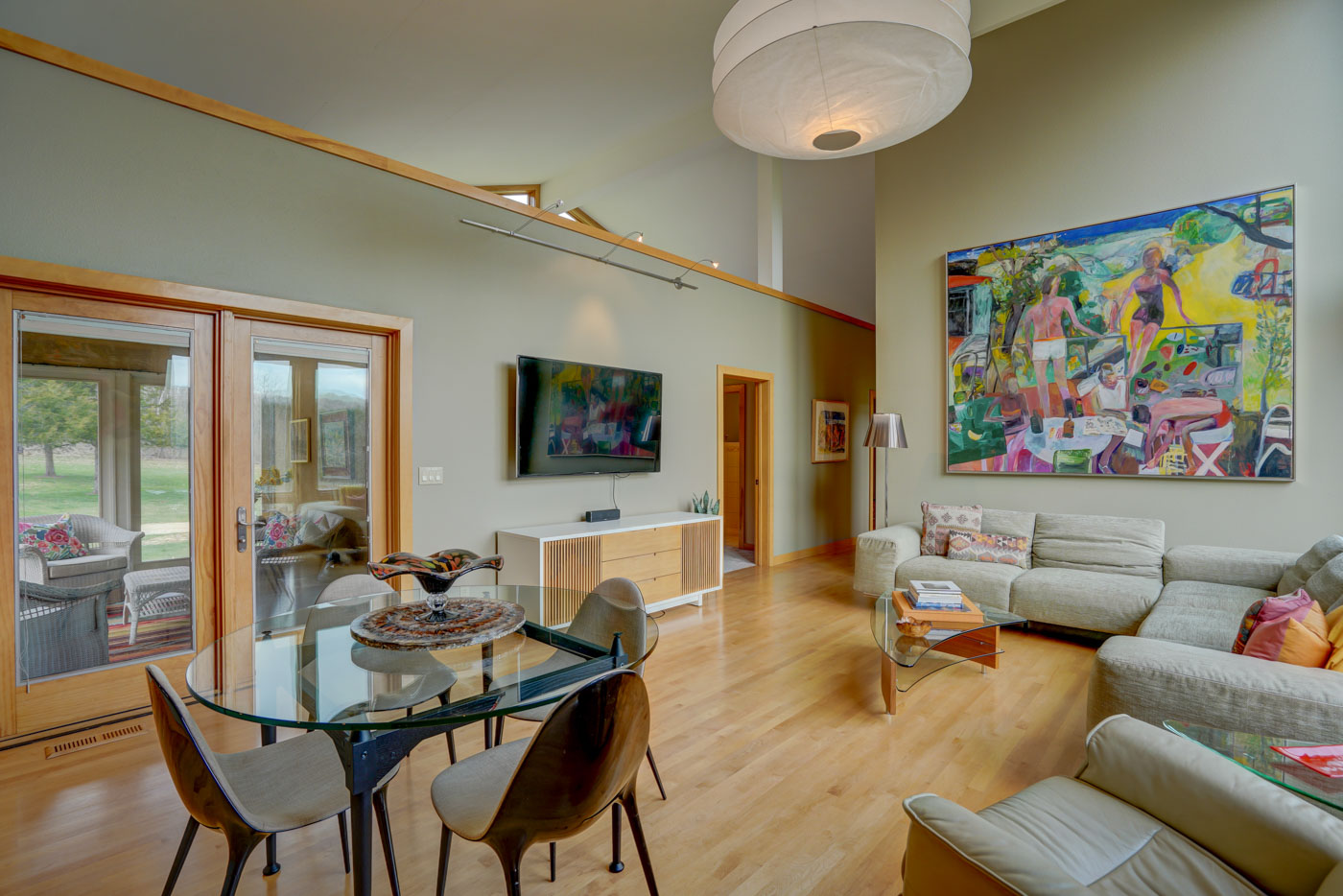 Off the family room, you'll find a 2nd screened porch, facing the rear of the house. And accessed by both the porch and the garage, is a large outdoor patio, perfect for entertaining or spending time with family and friends. There's plenty of room for grilling and outdoor dining. And after dinner, relax in your own hot tub.
Back inside, you'll find the 1st bedroom just beyond the family room. A spacious space, it features a double-door closet with organizer and drawers. A Jack-and-Jill bath with tub and shower leads into a 2nd bedroom, which can also be accessed from the hallway. This bedroom offers the same amenities as the first – and both have large windows overlooking the backyard.
Across the hall, there's a front-facing room with vaulted ceiling, large windows, and a 2-door closet, perfect for an office or 3rd bedroom.
The hallway leading from these bedrooms to the master is illuminated with soft sconce lighting. The first, closest to the family room, is an especially unique fixture, combining elegance with nature, in the form of a carved horn. Built-in shelving cubicles line the hallway, allowing you to decorate and showcase your favorite pictures, books or other mementos.
On the right, you'll pass a 1st-floor laundry room, convenient to all the bedrooms. The laundry features a folding ironing board, shelves and cabinets, as well as a sink. Across the hall, there's a large utility closet with central vac and built-in shelves, perfect for all your cleaning supplies.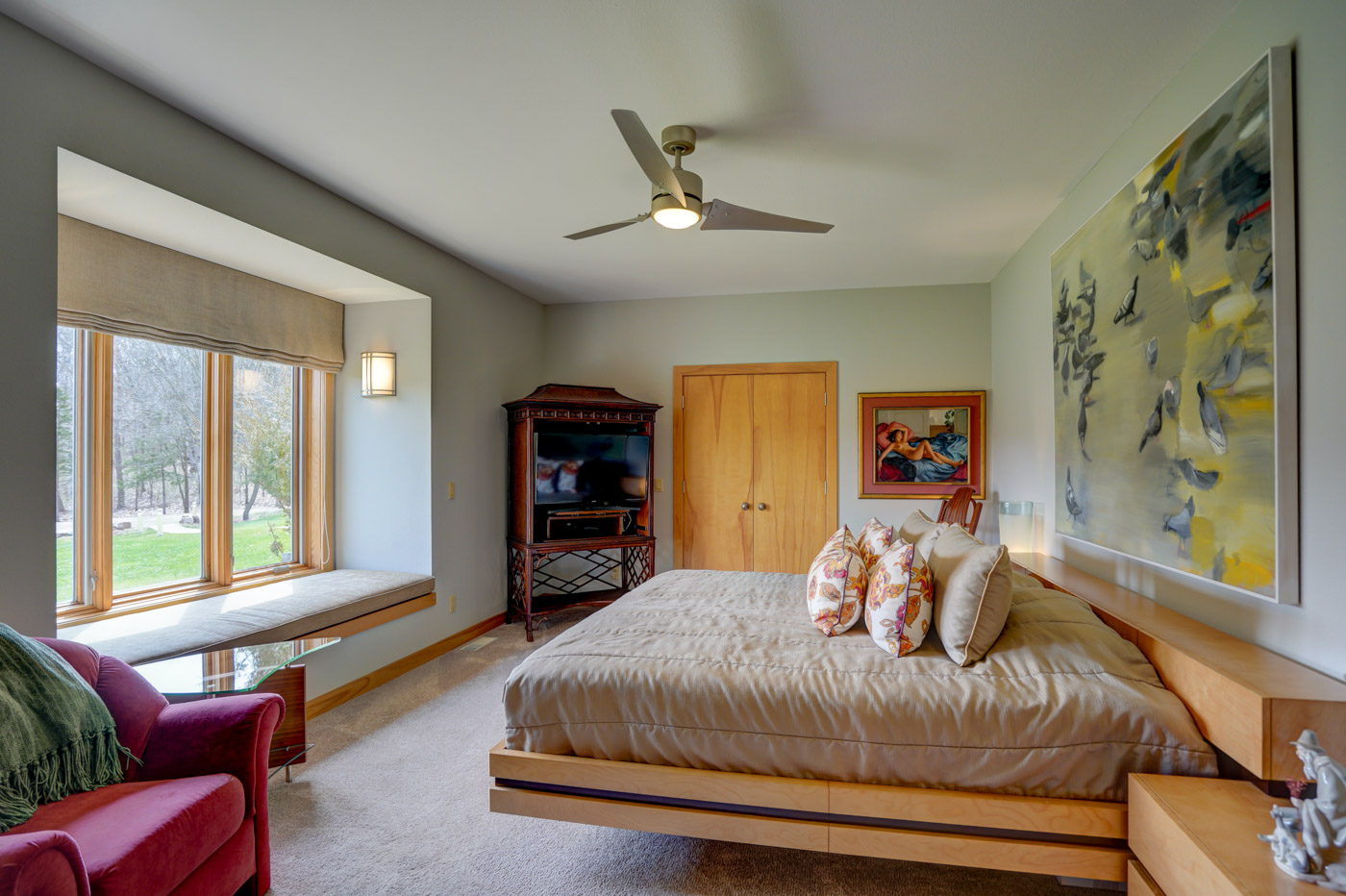 The last stop along the hallway is the master suite. This large room features a bay window with window seat. In this room, you'll find "his" closet, a walk-in with built-in organizers and dresser. Just off the bedroom is a spacious master spa bath in a striking pale salmon, with a soaking tub and a double-headed shower, framed by glass blocks. There's a sit-down vanity and ample storage within the many cabinets. A pocket door separates the toilet from the larger room for privacy.
Just beyond the bath is "her" closet — a huge walk-in with many built-ins and a full-length three-way mirror. And off the closet is an unexpected surprise — the 3rd screened porch. Grab a cup of coffee and you can enjoy the view of your front lawn and dancing wildflowers right here before facing the day!
Heading back through the house, you'll see that the attached 2-car garage can be accessed from your back hallway or from the outside through the garage doors. A smaller garage access door also leads to and from your backyard patio. Inside, you'll find storage shelves, upgraded lighting, and a floor drain.
The garage is also important for another reason — it provides access to the partially-finished lower level. Running the entire length of the house, there is roughly 3,500 square feet on each level.
Downstairs, an open space holds a workshop area with laundry tub, plenty of space for a game table, a workout area, and kids play space — or whatever you want to make of it. There's even a cozy nook just off this larger area, where a parent can curl up with a book or laptop while watching the kids play a few feet away. And we can't forget to mention the separate private fully finished mancave/office/den.
Keep walking and you'll enter the finished "back" room. There's LVT flooring and an exposed ceiling for an industrial look, set off by pine shiplap paneling along the walls. You'll also find a sauna for health and relaxation.
A wet bar/kitchenette with plenty of cupboards, a large quartz countertop, and space for a separate fridge and wine refrigerator make this a great 2nd kitchen. There's room between here and the family/TV room for a kitchen table – or game table — depending on your needs. From here you can enter a full bath, complete with shower, counter space and cabinets.
The bath also leads into a 5th bedroom. Although there's no closet, there's room for a large wardrobe and the egress window lets in lots of natural light. With all these amenities, this area could be used as a separate income suite, mother-in-law suite, or space for an adult child to live close to family while still maintaining privacy. Beyond a barn door is a huge storage room which also houses the 2nd furnace mechanicals, and plenty of room for storage with hanging storage lining one wall for your off-season clothing.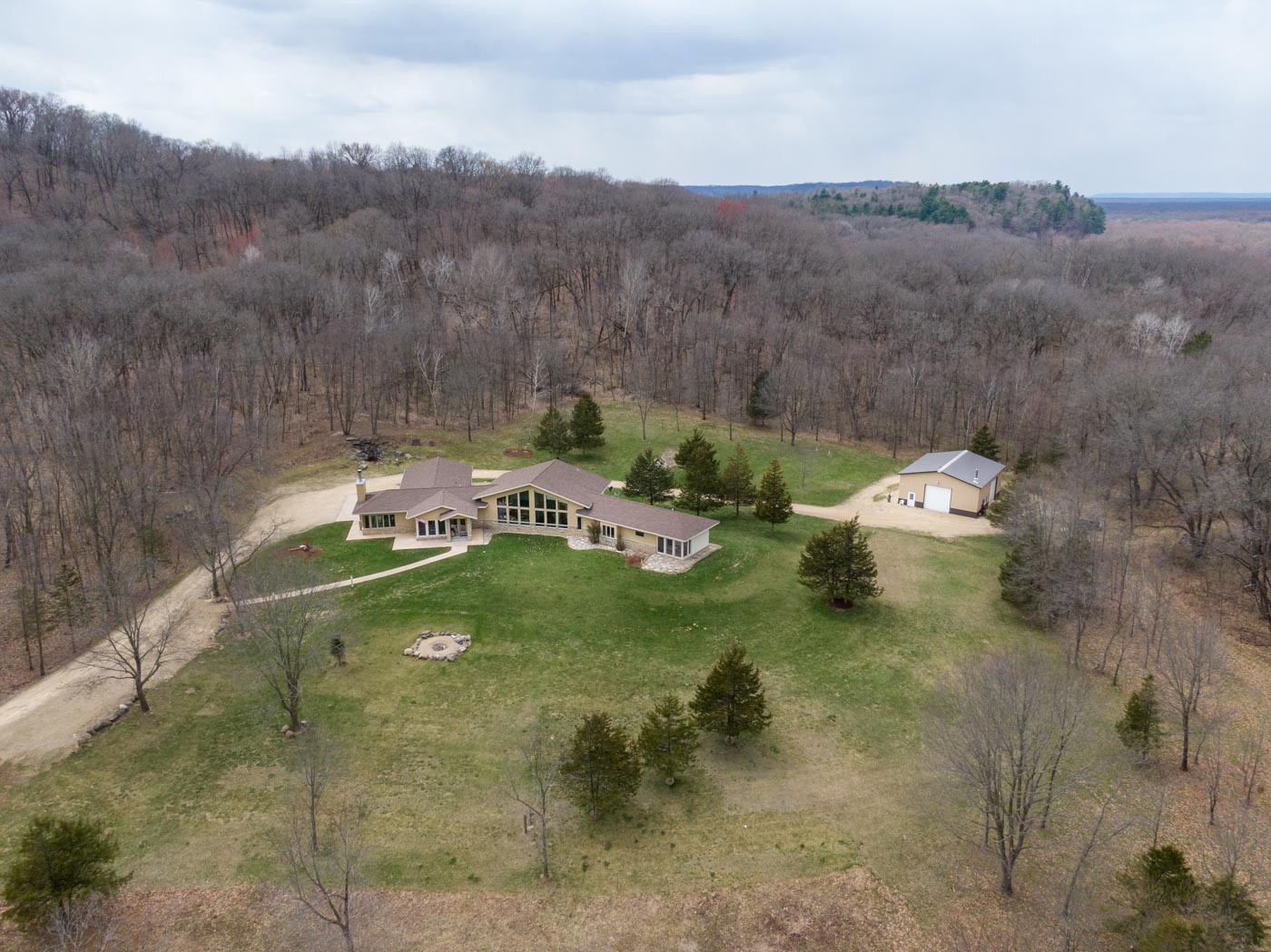 We started with the outside view leading up to the house, so let's take that full-circle and end with a closer look at the property. Out front, there are several flower beds in addition to the wildflower fields. A large firepit, surrounded by boulders provides a perfect place to start a bonfire and roast a few s'mores.
Out back, a large 40'x36' shed can house your RV, boat, 4-wheelers or workshop. A private path winding through the property is made for 4-wheeling, but if that's not your thing, it's great place to take a take a walk, hike and enjoy the natural beauty of the property. Behind the house, there's a raised vegetable garden and a waterfall with a small bench — the perfect spot to take a break from your gardening. Firewood storage is conveniently located out back as well. And an added bonus? Hunters needn't travel far — there are two food plots and deer stands right here on the property!
From back here you can also see and access your outdoor patio. A few potted plants would complement the woods beyond and create your own outdoor oasis. But when you need something only found in "civilization," it's a quick drive to restaurants, groceries, hardware and even local tourist attractions. In short, the house simply offers the best of both worlds.